Reader Raves for
The Prophecies Novels
"Dreams Unleashed begins brilliantly with a chase scene that rivals Tom Clancy's best work."

"This modern day 1984 is just as riveting as Orwell's novel, but if I had to choose, really choose, I'd take Hawley's series over Orwell any day. Why? Not only has Hawley created a unique futuristic novel, but she's also done much research into current events of our time, weaving them into her story and making it even scarier than 1984 ever was."

"Linda Hawley's skill is right up there with the best adventure writers, and her books are important."
Powered by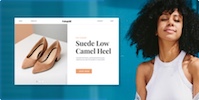 Create your own unique website with customizable templates.